Living the Dream in Santa Barbara
Hi! My name is Delia. I'm an adventurous spirit who's been willing to take a few chances in my life. Let me tell you how I landed in Santa Barbara.
My love for Santa Barbara began in 2006. I was living in Las Vegas and needed to see the ocean. When I saw the view from the top of the hill at Elings Park, I was hooked on Santa Barbara!
As a former tourist, I know just how much more there is to Santa Barbara County than most visitors realize.
I've decided to use my insider knowledge about this area to create Discover-Santa-Barbara.com. I just love sharing my local secrets with Santa Barbara visitors.
My goal is to provide easy access to all the information you need to plan a unique and fun Santa Barbara vacation.
So... Why Santa Barbara?
Paragliding is the reason I chose to live in Santa Barbara. This is a world-class area for free flight. One of the best training hills in the country is here at Elings Park.
I began taking paragliding lessons just outside Las Vegas in 2005. That's right. Flying off the side of a mountain under a nylon wing is fun for me!
That's no surprise to my friends and family, though. I've always been a daredevil - even did some skydiving in college!
I love flying my paraglider. It's so much better than skydiving for me. When I found out you can go UP with a paraglider and have sustained flights longer than an hour without a motor, I was completely hooked.
I wanted to move to Santa Barbara in 2006, but housing was prohibitively expensive and there were no job openings in my field at that time. So I resigned myself to visiting whenever I could.
I Found My Perfect Business
Things were going well for me in Las Vegas. I had reached the pinnacle of my medical career. I liked my boss and the people I worked with. I felt valued at work, had plenty of time off and made more than enough money. Life was good.
But I still wasn't satisfied. I thought to myself, "So.., this is it? I'll be working here until I retire?" Even though it was the best clock-punching job I've ever had, it was very stressful and I didn't like being on call.
I longed to have more control over my life and to stop working for someone else. I wanted to create a business that would earn income whether I was there or not.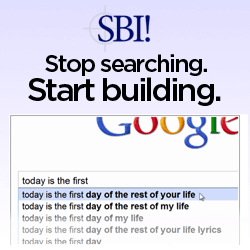 So, I made a wish list. I wanted a job that would allow me to:
Earn Money with My Computer

Live Wherever I Want

Take Spur of the Moment Vacations
Work Flexible Hours
Fly When The Weather Is Right
Work While Traveling
Generate Retirement Income
Create Equity
Impossible, right?
Well, believe it or not, I did find a system that promised to do just that. The literature warned that this was NOT a Get Rich Quick scheme, which was reassuring, and offered a full 90 Day Money Back Guarantee! No Questions Asked.
This online business-building software system, called Site Build It!, can be applied to any subject. It allows you to evaluate the profitability of topics that interest YOU.
It's not necessary to know anything about building a website, either. This package teaches you everything you need to know about creating an online business.
I thought, why not? What have I got to lose? There's a 90 Day Money Back Guarantee, isn't there?
And... what if it works?!
So, I bought it. And I started learning how to build a website.
France in the Springtime
Around the same time, I was preparing for my first trip to Europe. I was going to paraglide in the French Alps! This was the trip of a lifetime! I was so excited!
I had a wonderful time. One of the paraglider pilots on the tour turned out to be my new (and final) boyfriend!
Mike & I both lived in the desert; he in Arizona and I in Nevada. Neither one of us wanted a long distance relationship. And we both had friends in Santa Barbara.
One night Mike asked, "What do you think about moving to Santa Barbara?" I thought it was a great idea. And this time when I went job hunting, I found employment. Miraculous!
With mixed emotions, I gave 2-weeks notice to the best employer I ever had... and started packing. I soon realized I wouldn't have time to work on my website for a while. It would be wasteful to keep the service. So, I asked for my money back...
...and SBI! GAVE it to me! (a pro-rated amount, of course) No problem. No questions asked.
My New Life In Santa Barbara
Three years later, Mike & I are still happy together. Once again my thoughts have drifted to creating a more flexible work schedule. I want my freedom now more than ever. Good flying weather happens in the middle of the week sometimes!
In April 2010, I decided to give that website idea another try. Today this website is six months old. I've written more than 30 pages, and traffic is building steadily. Just like the Action Guide said it would. It's working!
You don't have to take my word for what a great business this is. Read what some VERY successful SBIers have to say about it. If you'd rather watch a video to learn more, SBI! TV is for you.
Time will tell where this project leads me. Look for my one year anniversary update in April 2011. Can't wait to see what happens!
Thanks for visiting Discover-Santa-Barbara.com!